3 Sixty Duty Free and More
Details:
We are excited to offer our entire line of fragrance and cosmetics at the special promotion price of Buy One Get One 50% Off!
This is the first time in our history we have offered this great deal!
This offer is for all airline/airport employees and passengers with no restrictions!
Thousands of brand name products including MAC, Chanel, Lancome, Estee Lauder, and Clinique.
Our store located in the AS1 Terminal near gates 20-29 is currently open Monday to Friday 530am to 10am.
Our store located in the AS4 Terminal near gates 80-89 is currently open Tuesday to Saturday 9am to 2pm.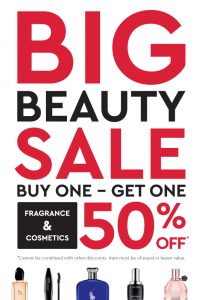 Expires:
December 31, 2020
Vendor Contact Information:
Address:
7199 S Conway Road
Suite 400
Orlando, Florida 32812
Included Files