Hyatt Regency Orlando International Airport
Details:
MCO Employees can receive up to 20% off at McCoy's Bar & Grill (excluding alcoholic beverages). McCoy's Bar & Grill is now serving breakfast and new lunch & dinner menu items. Sushi is also available after 5pm each day.
Please show GOAA badge upon pick up/order.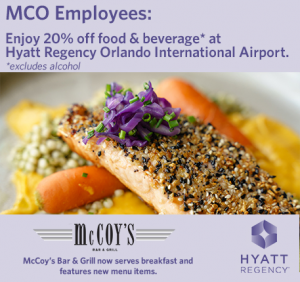 Expires:
December 31, 2020
Vendor Contact Information:
Address:
9300 Jeff Fuqua Blvd
Orlando, Florida 32827
https://www.hyatt.com/en-US/hotel/florida/hyatt-regency-orlando-international-airport/orlan
Included Files