In partnership with businesses that provide services and goods to the Orlando International Airport , a job fair is scheduled to take place for those seeking employment.
The job fair will bring together approximately 50 companies representing a variety of fields like concessions, airline services, security, and parking and transportation. In an attempt to best follow recommended social distancing guidelines, those planning to attend are encouraged to register for the event in advance. Registration is not required to attend.
Job fair attendees should be prepared for face-to-face conversations with business leaders and dressed appropriately for that opportunity. Additionally, everyone should have multiple copies of their resume available to supply to companies they may be interested in working for.
What: MCO Job Fair
When: August 17 from 10 a.m. to 2 p.m.
Where: 5th floor of the Intermodal Transportation Facility (ITF) at Orlando International Airport
How to Attend: Register through this link: https://www.surveymonkey.com/r/Aug172021
Other notes: Parking at the A or B garages will be validated. Attendees will need to take the APM (tram) down to the ITF (Follow signs for the APM to Garage C near security checkpoints 70-129). Limited parking will be available at the passenger drop off lane at the ITF which is accessible off of Jeff Fuqua Blvd. via Station Loop Rd.
Important reminders:
Bring your valid ID.
Bring your mask as they are required to attend the event and on airport property.
Bring multiple copies of your resume to give to potential employers.
Dress for success.
All job related inquiries or submissions must be done directly with the specific hiring company.
Everyone working on airport property will be required to pass a background check as a condition of receiving an airport badge.
Here are some of the employers you will find:
ABM
ABM Industries, Inc.
AirPanchos (Manchu Wok & Auntie Annes)
Airport Terminal Services, Inc
Alliance Ground Int'l
Allied Universal Security
Amanah ventured LLC SBA diamonds&co
Avis Budget Car Rental
CARILOHA
dnata
Enterprise Holdings
Eulen America
Falcon Airport Services
Flagship Airport Services
Florida Cleaning Systems
Gate Gourmet
GILCHRIST ENTERPRISES INC
Global security
Greater Orlando Aviation Authority
Hertz Car Rental
HMS Host
Hudson Group
InMotion Entertainment
Johnston & Murphy
JSM Airport Services
LEE WESLEY
MATRIX AVIATION SERVICES, INC
Menzies Aviation
Oakley
Opmax Support Services
Paradies Lagardere Dining Division
PrimeFlight Aviation Services
Prospect Airport Services
Quantem Aviation Services
SASI-FL
Smarte Carte
Southeast Airport Services
Southeast Airport Services
SP Plus
Sterling Building Services
Sunglass Hut Swissport
Transportation Security Administration – TSA
Tri-Star Airport Handling Services Co.
U.S. Customs and Border Protection
USP Parking
Vanderlande
Villa Restaurant Group
Stellar Partners
Spirit Airlines
Map of North Terminal: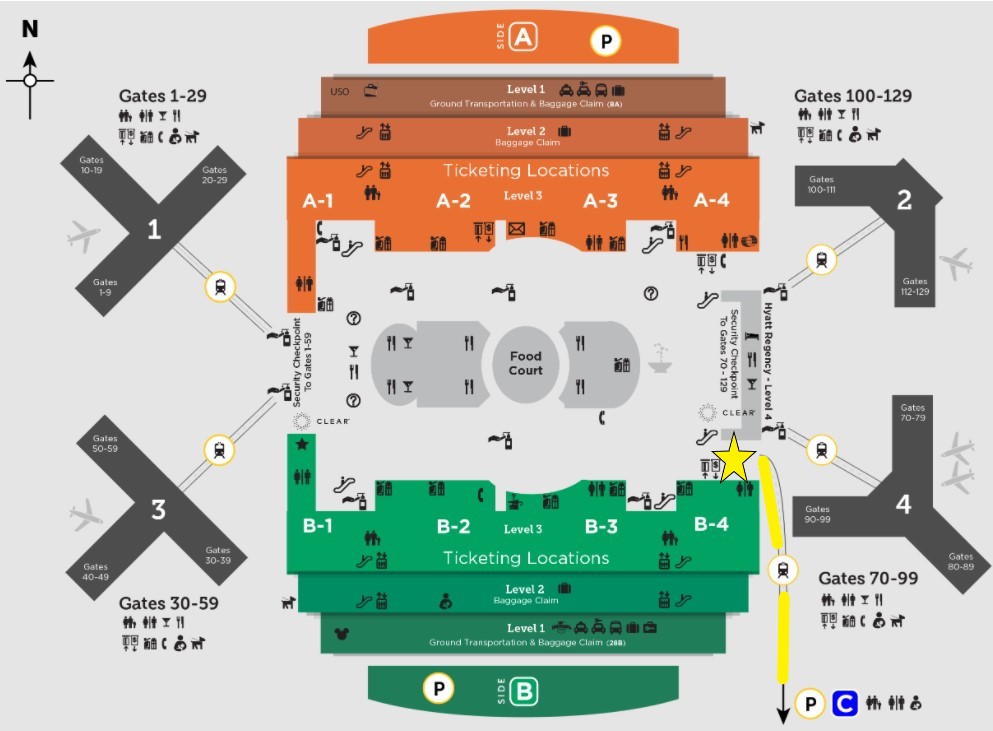 Map of South APM Station and ITF: